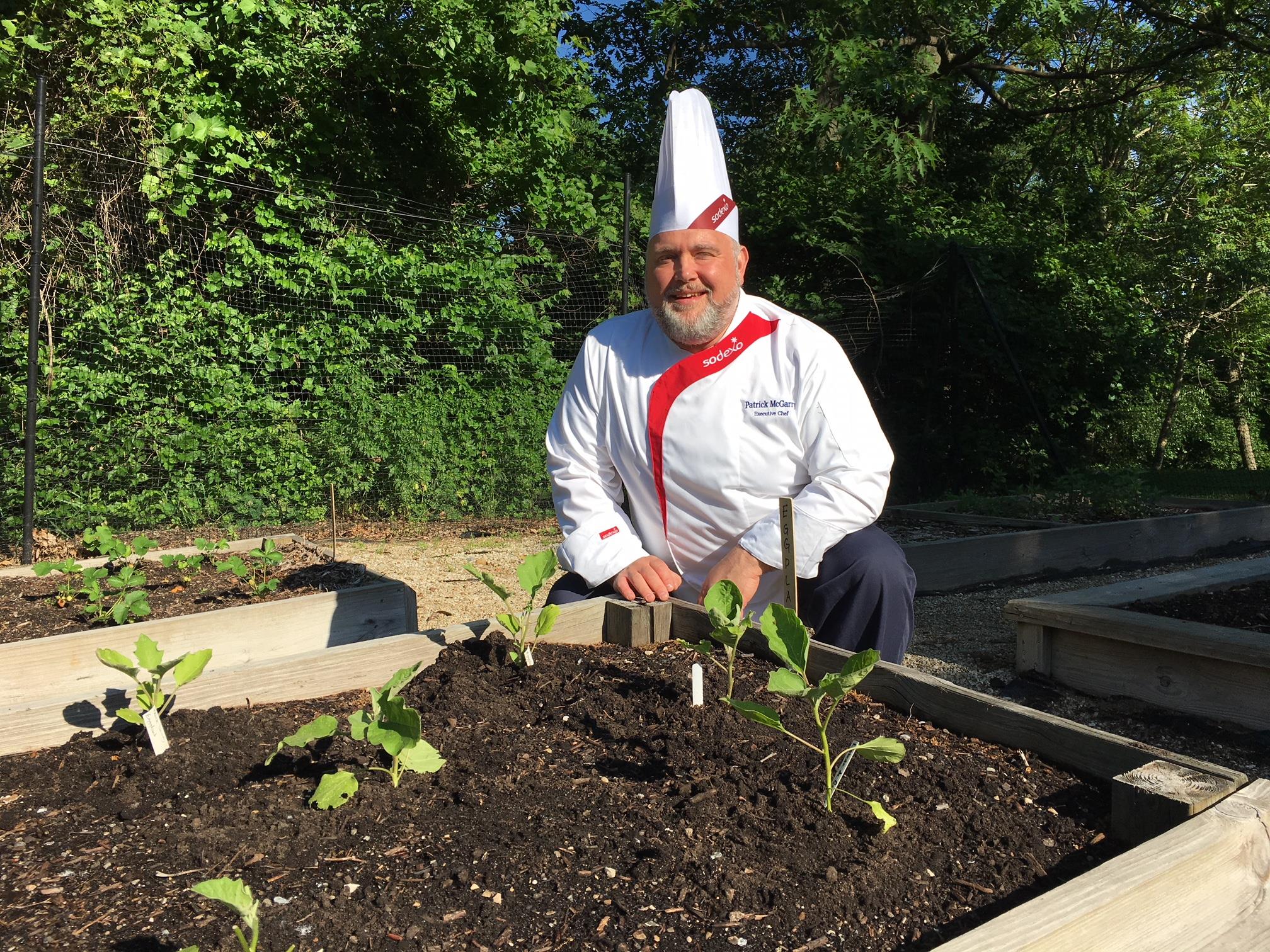 Patrick McGarry Interview
Summary
Kyle Null came by to interview Patrick McGarry about the HCV's fine dining program. Below is a transcript of that conversation. 
Kyle:
Have you done ice carving here before?
Patrick:
Absolutely, we started doing an event about five years ago called Fire and Ice. The Life Enrichment department came up with this neat idea and since I was an ice carver, I volunteered to do the carving. Every year, I carve the ice block on the patio of Dujarie House. We serve them hot chocolate and desserts while they sit comfortably inside and enjoy watching the piece come to life. The annual ice carving is always a well-attended event. I'll never forget the first couple of times doing it, I didn't realize that there were so many people inside watching me and then I walked in to hear a round of applause.
Kyle:
What other events are some of your favorites? Are there other events that you really get excited about to showcase what you care about and what you love to do here?
Patrick:
We started planning two annual block parties and I've got to be honest with you, they have been the biggest, best turnout I've ever seen. The entire community comes together, the most important aspect is the food that brings everyone together and they really enjoy it. It's also an opportunity where you get to sit down and get to know the residents, talk with them and that's one of the best things about working with seniors versus my previous role in college campus services. When I crossed over in working divisions in my company from college campus services to senior living, the difference was the residents care about who you are. They want to know, you know, just like we're talking today, where did you come from? The residents like to know if you have a family, kids, and share anything about your life. And you're someone to them and it's so nice to be able to have that. I was just talking to some of the other departments today, it reenergizes us to be able to sit down and talk with them because throughout our day, we're so busy with trying to be on task and get all of our things accomplished that we don't always get the time to sit and talk, or make that connection that we'd like to. The block parties are the most food exposure we've had at one of our events because we wanted to do outdoor stations and it has been a total success.
Kyle:
I wanted to talk a little bit about how you incorporate family recipes in some of the food that you do here. Can you tell me a little bit about that story that you shared with me, the resident that wanted you to make something that was a family recipe?
Patrick:
We have a program called Recipes from Home. We ask that our residents bring us recipes that they found and really enjoy or something that they cooked for years that they'd like to see on our menus. I had someone bring me a recipe and say, this is one of my favorite things my family always had, and I haven't had the opportunity to have it for a very long time. We worked with them until we perfected the recipe and we include it in our menu cycle, so they can enjoy it from time to time. I always take the opportunity to call that person and let them know we're serving their specific recipe; they get excited and always want an extra serving to take home.
Kyle:
You also have an sustainable oil program that you're involved in, can you share a little bit about that?
Patrick:
We have a lot of sustainable things out there at our fingertips. One would be that we purchase one hundred percent canola oil, after using the oil it is then filtered and can be utilized in diesel engines for fuel. The neat thing about it is we're in here on a weekly basis, cooking food with it, and then it's out on the streets being reused and repurposed for another use. We also have a program where we try to forecast our cooking as close to the projected consumption as possible, so we can eliminate food waste. We work with local farms and we're getting our products as close to campus as possible, so that there's not 500 miles in between things that are coming onto campus. That additional planning cuts down and reduces the amount of fuel spent for our products to get here. In addition, it's helping to support our local folks that we love to work with because we get to go on their farms. We get to see the process, and it's nice to know the person that you're getting your products from, I don't know that everyone gets to say that. I can say that I saw the process, I got to see where our food's coming from and what the farmer's put into it and how they take the time to ensure that it's being grown right.
Kyle:
I think it's important for everybody's health, not just seniors, but it's great to hear that you're doing that already. The evolution of that is going to be fun to watch, as you continue to make strides towards that. One of those steps you've taken is the garden. Tell me a little bit about the garden club and your relationship there.
Patrick:
The garden club meets regularly, and we discuss as a group some of the things that folks would like to see on the menu. We try to connect the products being grown here on our property and making it from the garden to the table. We've had some very successful planned meals that we do. Some of the weekly collections, you don't know what you're going to get. We try to incorporate them into fresh salads and garnishes, infused waters with the herbs and pesto's and we'll make sauces with them. A lot of times it'll influence pastas, pilafs, some different risottos and grains. One of the exciting dishes that we like to get every year is a zucchini parmesan, people are used to eggplant parmesan because it's traditional, but we started growing the zucchini and this is one way to utilize it here. I've worked with our local produce companies and farmers to be able to offer some of that, where we've partnered with them to get the plants here that are grown in garden. We get the benefits of it as they harvest it and it comes to our kitchens on a weekly basis, throughout the summer period as the things come into season. It's been a nice program and I've tried to be as influential to it as I can so we bring as much as we can to the dining room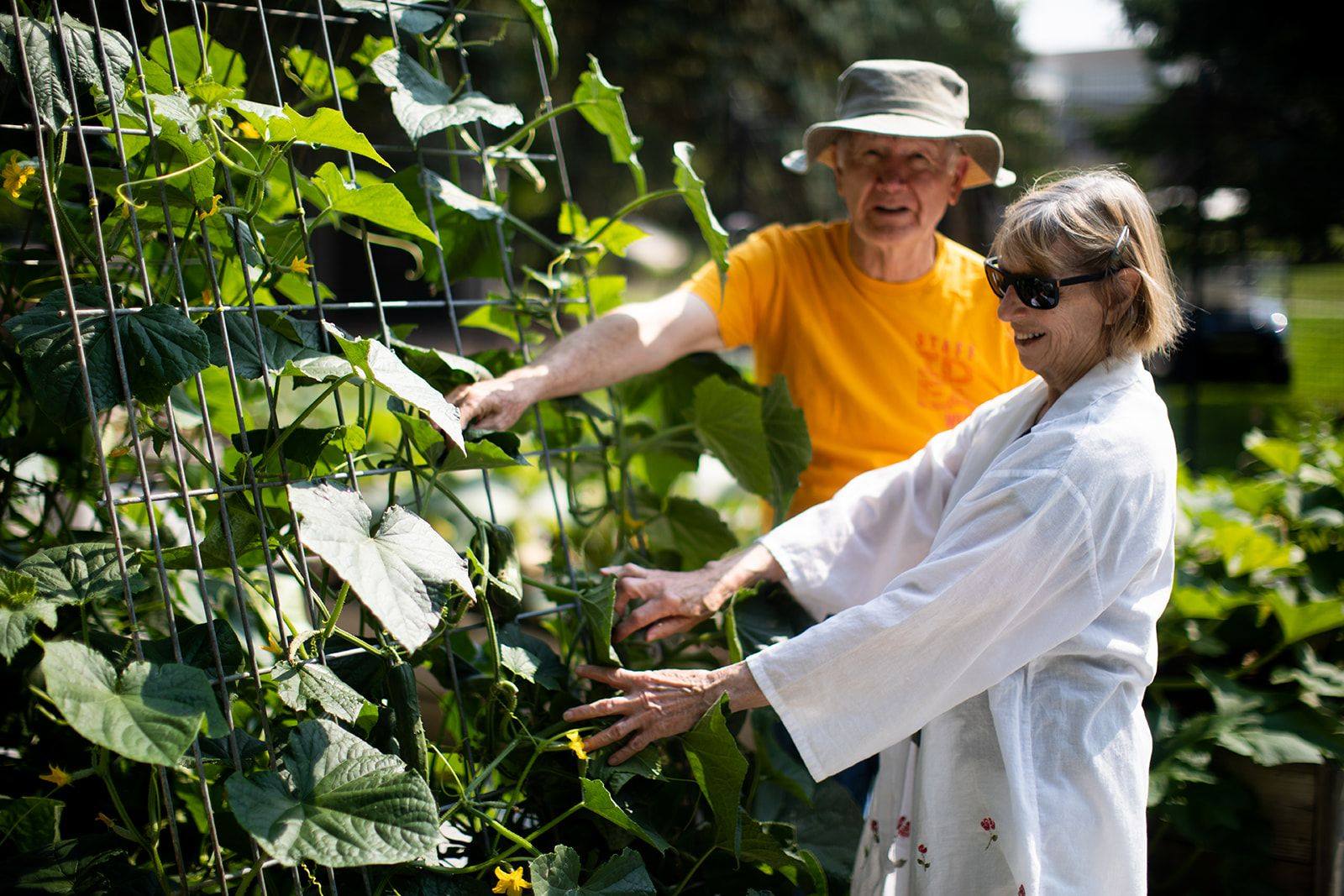 Kyle:
That's so good, that's the kind of thing that I really want to point out. You're not only feeding everyone here and giving them the best food possible, but you're also going way above and beyond to share that wealth with the community. I think that's important to share with people. It's an amazing story, super inspiring, you guys should be so proud of it.
Kyle:
What kind of things are you most excited about, going forward? Do you have things on the burner, metaphorically, that you're excited to work towards?
Patrick:
So, there's the service aspect of it, and there's also the food part of it and bringing the two together for future projects or goals that we have as we move forward. The things we're working on now is trying to create a good mix of venues for folks to eat at different times, offer different menus. Collecting the residents' information is the biggest part because I can sit and think I know what people want to eat, but I don't know until I hear from them what they want to eat. We have a very active food committee, which I will sit in on and we problem solve. We're working on a bright future.
Patrick:
I couldn't do any of this or sit here today without a great team. People know that about me, when it comes to getting a thank you, I always pass it along. I always make sure that folks are aware that it doesn't start and end with me. It takes everybody here and I'm blessed to have a great team. One of the things that we like to do together is sit down and plan events. We do that as a team, and we're so much more successful because they have ownership of it and it's what they want to do to better the experience. I talked a little bit about the details, those details come from them, and they're putting the effort into making sure all those details come full circle, and then they want to participate.