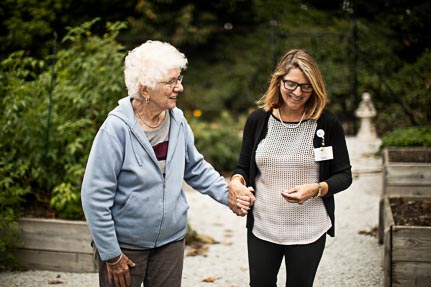 Garden Interview with Barb Cassady
Summary
Kyle Null interviewed Barb Cassady about the HCV's Garden Club. Below is a transcript of that conversation. 
Kyle:
Can you tell me a little bit about how the garden helps bring the community together?
Barb:
We've got a team of three that come out here weekly on Wednesday mornings. Our community component of the Unity Garden is we grow and harvest and deliver food weekly to Saint Augustine Soup Kitchen. On those days we harvest and we weed. We do more planting if needed and water. The residents are usually out of here a little bit later. We have some ladies that are taking care of our flowers and they come out in the afternoons when it's a comfortable time for them. We have folks that'll come out randomly and just weed the garden as needed, especially around the base of the beds.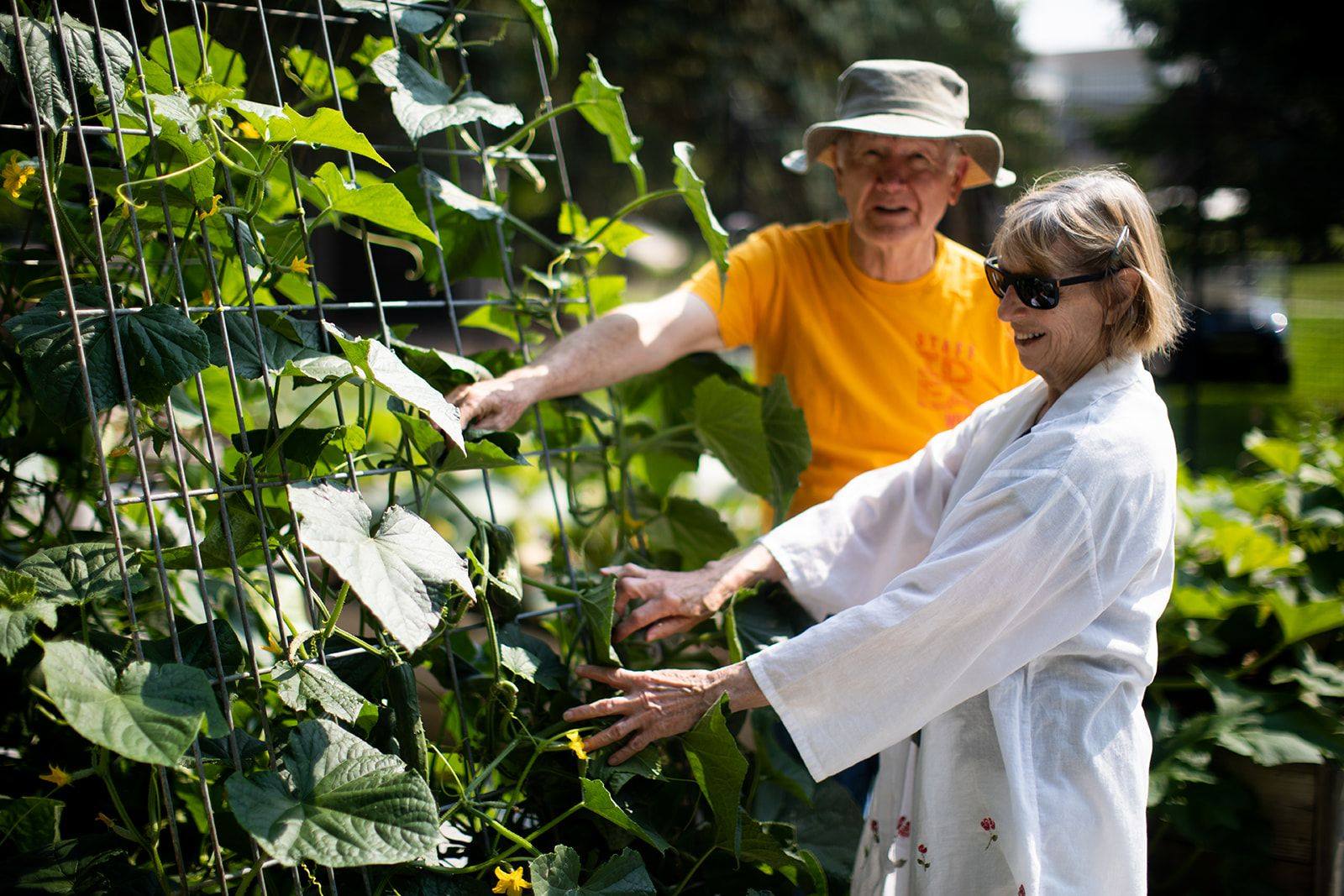 Kyle:
When do you usually plant the herbs?
Barb:
We started in April and we had two workdays, two planting days, and then we put plants in right after Memorial weekend. We'll go through to the end of September.
Kyle:
What kinds do you grow?
Barb:
We've got some Rosemary, Chives, purple Basil, some other Basil, golden Thyme, Dill, Mint, Oregano, and Parsley.
Kyle:
Can you tell me a bit about the flowers and flower boxes here?
Barb:
We've got three flower boxes, and the boxes were built by the father of one of our volunteers. We have a resident who joined us last year in the Garden Club and said "I didn't notice any flowers. Do you want flowers?" That's kind of her thing. So for the last couple of years, hadn't done flowers, just hadn't had the time or the help. She came out and repainted all the boxes. They were actually natural color and she just painted them all purple and went and bought the flowers and got them all set. Now she's got somebody helping her this year, another resident. She's planted all those, it just adds a nice bit of color and we would put those in bouquets for events that we had. It added a lot of nice color and beauty.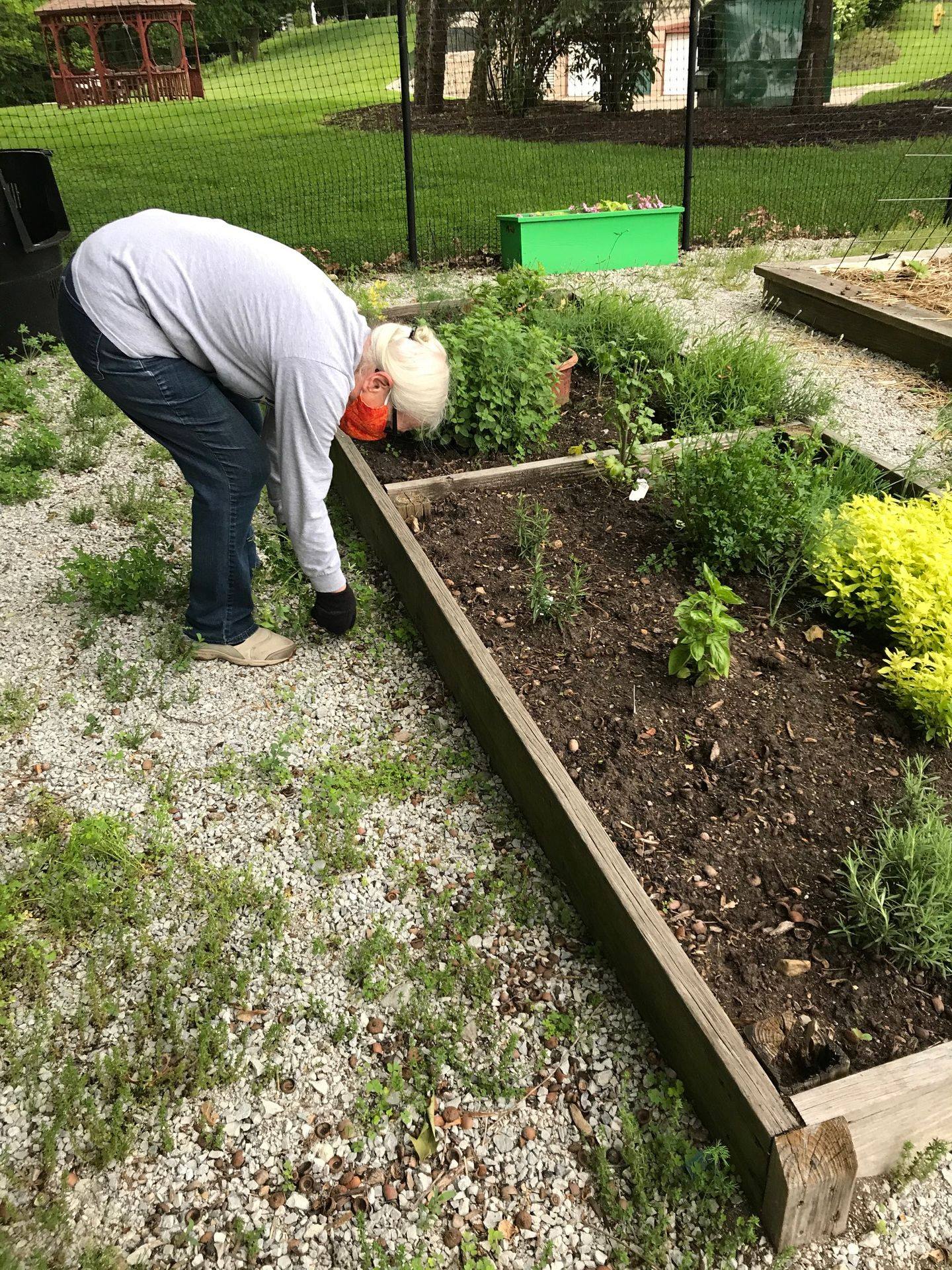 Kyle:
What kind of relationship does the garden have with the kitchen staff?
Barb:
Our Executive Chef, Patrick McGarry is very involved in the garden. He attends Garden Club meetings when he can and he has Sodexo always donating plants. He also goes out and buys them at a farmer's market and donates those through Sodexo as well. There's certain things like we grow eggplant just for our kitchens here. It's not one of the vegetables that more readily needed, let's say at the St. Augustine Soup Kitchen. As those vegetables start coming on, they'll feature that for a menu item. He not only donated the plants, but then once we start harvesting these, he'll feature eggplant Parmesan or some other entree item, for the residents. They also come down and utilize the Basil. That's a real easy thing to come down and get. In the past we've tried to dedicate one day a week where we harvest for the kitchen. So we'll kind of see how much we have Wednesdays, our soup kitchen day, and then try for one other day during the week harvest for the kitchen. The great thing is we can come down here and pick flowers and those go in the Bistro to add some color or on the Bistro tables.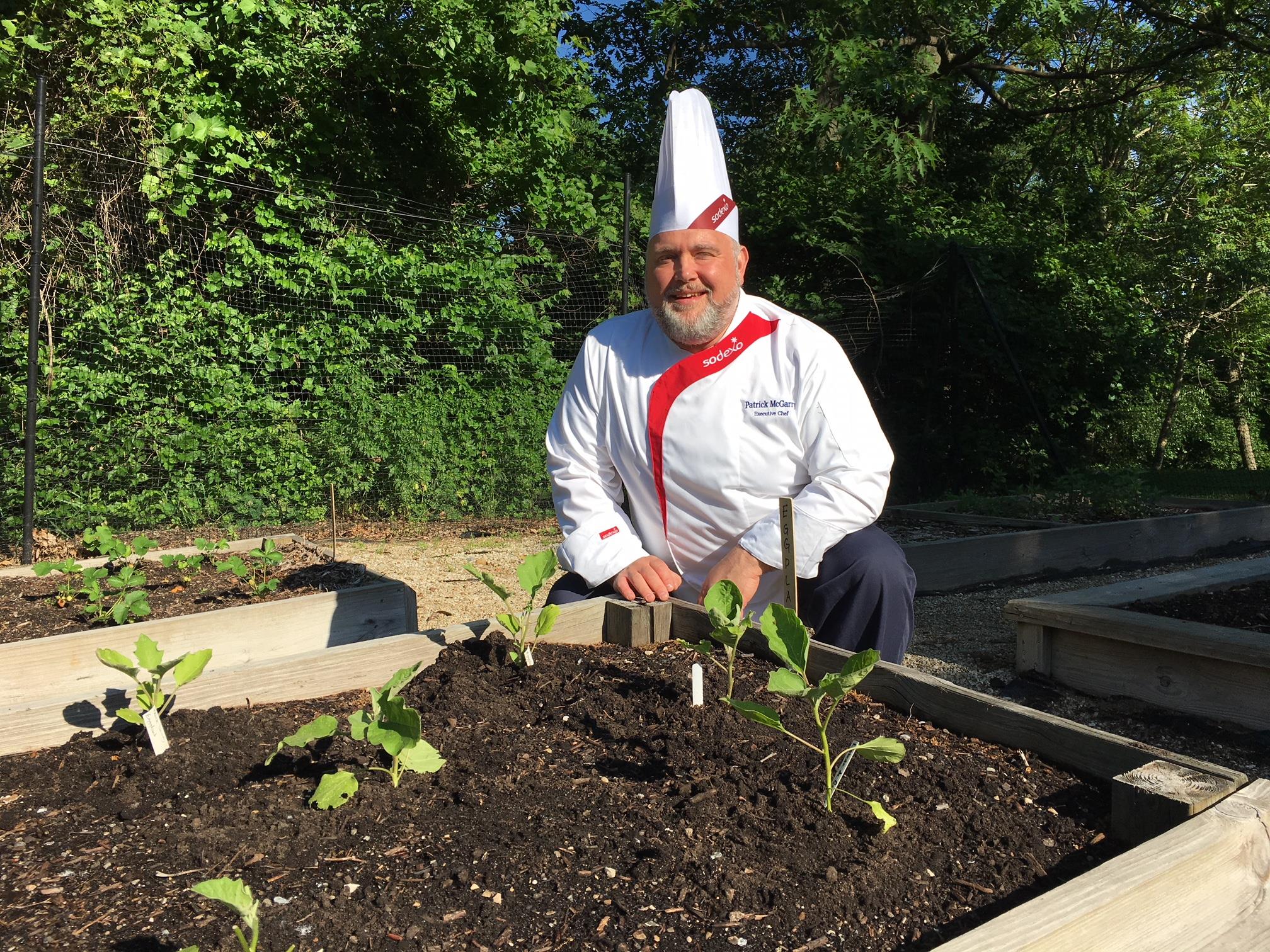 Kyle:
I see you have some beehives over there, do you harvest honey here on campus?
Barb:
In addition to this being our eighth year with our 16 raised beds, we started about four years ago. We did some fundraisers and had a trivia night and sold bee buttons. We raised enough money to buy two beehives. Those beehives are in a fence locked area and we have a beekeeper through Unity Gardens. He comes out periodically to check on hives, and we have a total of five hives right now, two of the hives didn't winter over this past season. He was able to replenish those hives with bees and a queen bee. He also said in our existing hives that we did have some honey. He'll take it, bottle it, and then it goes to Unity Gardens. They will seal it and label it. Our brand of honey is called Holy Blend Honey, when we have the honey; we sell it in our Bistro. Residents can buy it and any of the net proceeds go to St. Augustine Soup Kitchen. That money can help buy food to make their soup or supplies that they need with the establishment of the beehives. We've had a different beekeeper come in and he did a Bees 101 class. He's taught that a couple of times in different areas of the campus, just to try to educate people as to why we felt it was important to get the hives established here. It's been fun and we've all learned a lot.